Eddi Mabo
Eddi Mabo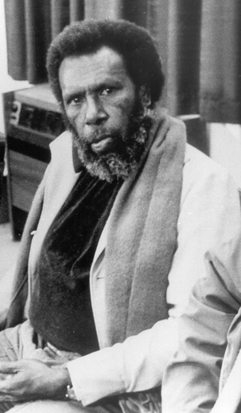 Eddie Koiki Mabo(c. 29 June 1936 – 21 January 1992[1]) was an Australian man from the Torres Strait Islands known for his role in campaigning for Indigenous land rights and for his role in a landmark decision of the High Court of Australia which overturned the legal doctrine of terra nullius ("land belonging to nobody") which characterised Australian law with regard to land and title.
Early life and family
Mabo was born Eddie Koiki Sambo but he changed his surname to Mabo when he was adopted by his maternal uncle, Benny Mabo. He was born on the island of Mer (Murray Island) in the Torres Strait between Australia and Papua New Guinea. Mabo married Bonita Neehow, an Australian South Sea Islander, in 1959. The couple had seven children and adopted three more. One daughter, Gail is an Aboriginal artist and dancer who works with schools in New South Wales as a cultural advisor and serves as the family's designated spokesperson.
University
Mabo worked on pearling boats, as a cane cutter, and as a railway fettler before becoming a gardener at James Cook University in Townsville, Queensland at the age of 31. The time he spent on the campus had a massive impact on his life. In 1974, this culminated in a discussion he had with JCU historians Noel Loos and Henry Reynolds, who recalled Mabo's reaction:
"...we were having lunch one day in Reynold's office when Koiki was just speaking about his land back on Mer, or Murray Island. Henry and I realised that in his mind he thought he owned that land, so we sort of glanced at each other, and then had the difficult responsibility of telling him that he didn't own that land, and that it was Crown land. Koiki was surprised, shocked and even...he said and I remember him saying 'No way, it's not theirs, it's ours '".
Land rights advocate
In 1981 a land rights conference was held at James Cook University and Mabo made a speech to the audience where he explained the land inheritance system on Murray Island. The significance of this in terms of Australian common law doctrine was taken note of by one of the attendees, a lawyer, who suggested there should be a test case to claim land rights through the court system.
Perth-based solicitor Greg McIntyre was at the conference and agreed to take the case; he then recruited barristers Ron Castan and Bryan Keon-Cohen. McIntyre represented Mabo during the hearings. Of the eventual outcome of that decision a decade later, Henry Reynolds said: "it was a ten year battle and it was a remarkable saga really".
Death and legacy
Mabo relaxed by working on his boat or painting watercolours of his island home; however, after 10 years the strain began to affect his health. On 21 January 1992, he died of cancer at the age of 55.
Five months later, on 3 June 1992, the High Court announced its historic decision, namely overturning the legal doctrine of terra nullius - which is a term applied to the attitude of the British towards land ownership on the continent of Australia.
"...so Justice Moynihan's decision that Mabo wasn't the rightful heir was irrelevant because the decision that came out was that native title existed and it was up to the Aboriginal or Islander people to determine who owned what land." Henry Reynolds
That decision is now commonly called "Mabo" in Australia and is recognised for its landmark status. Three years after Mabo died, that being the traditional mourning period for the people of Murray Island, a gathering was held in Townsville for a memorial service.
In 1992, Mabo was posthumously awarded the Australian Human Rights Medal in the Human Rights and Equal Opportunity Commission Awards, together with the Reverend Dave Passi, Sam Passi (deceased), James Rice (deceased), Celuia Mapo Salee (deceased) and Barbara Hocking. The award was in recognition "of their long and determined battle to gain justice for their people" and the "work over many years to gain legal recognition for indigenous people's rights".
Clip I: Mabo Island Man 1936 - 1992 (3 min 57 sec)